Glass Partition Dubai - Fixing Glass Doors and Partitions in Dubai
We are glass partitions company in dubai. Your one stop solution for all your glass partitions and doors related queries. 
Types of Glass Partitions
Office Glass Partition Dubai
There are various thinkness of glass used in office spaces but the standrad Frameless glass partitions  as per UAE standrad it have to be 10mm tempered glass partition quotation mandatory. Learn More
Shower glass partition dubai fixing
Shower glass partition dubai price can vary depending on the your home or offices. If you are living in an apartment the glass partition panel size should not be more than which will fit inside building elevator. Learn More
Glass partition contractor in dubai for customised partition.
It includes installation of glass partitions for kitchen opening into the living room. It is used to soundproof living room from unwanted sound from the kitchen. Learn more
Since so many people are discovering the joys of having their own home, one of the best places to find replacement windows, doors, and siding is a company in Dubai that has expertise in the installation of glass partitions. We can easily replace the front and the back glass, as well as the siding on your home or business for a very reasonable price.
Glass partitions are not something that most homeowners choose to do on their own. It is a very tedious process, especially if there are any joints or gaps that are left behind by previous repairs. For fixing, it have to be done by glass fixing companies. If you are considering replacing your glass doors, you should call us to come and assess the area and take measurements to give you a quote.
Our technicians can tell you what exactly needs to done and how to achieve the task. They will also be able to give you a full list of the method that you will need to do for the job. The prices that quoted can vary depending on the type of partition design, as well as the time it takes to complete the project. We are a qualified glass partition company in emirates that can handle the job for you.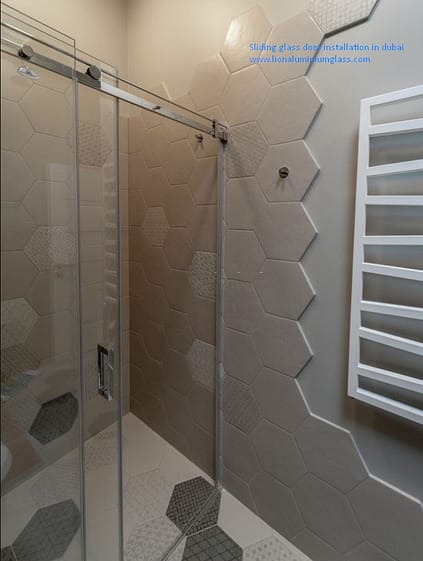 Bathtub glass screen doors used to add value and beauty to any bathroom. In today's world, more people are going to the bathroom more frequently and for long hours. So, what does this mean? It means that the bathroom is going to have to be well ventilated. It has to be separate from the shower area.
Also, if the bathtub screen is not there, people inhale germs particles from the toilet seat when they are taking a shower or bathing. With a glass shower door, you are keeping germs out of the bathing space.
There are a lot of different types of bathtub glass screen doors. These include bathroom glass shower doors, curve shape glass partition, bathtub glass with openable doors, glass shower screen with stainless steel hinges doors, single shower glass panels, etc.
Glass shower doors are with a combination of glass and stainless steel accessories—shower screens accessories such as stainless steel U channels, Handles, Doorknobs, and heavy-duty hinges.
Bathtub glass screen doors are of tempered glass. It is for the safety of the users who might accidentally crack the screen, tempered glass doesn't fall in big chunks, but it breaks into small pieces.
For those that need help to decide which type of bathroom glass screen partitions to buy, consider these tips. First, ask yourself how many people use the bathroom. If there are kids who will be using this bathroom? then you need them to keep out of the shower area.
If you use the bathroom often, it makes sense to buy the bathtub glass shower doors for space instead of old fashioned curtains. But if you only use the bathroom a few times a year, then you can save money by buying a cheap version of curtains. And in case you need extra support while you shower, it is a good idea to get a Stainless steel pipe support on the top of the cubicle.
There are several types of glass partitions that you can use in your office. The most common type used in UAE is the opaque glass partition door, which is a single leaf door partition. You can find a wide range of when it comes to partition. Some client prefers frosted stickers door with partition, and some prefer half frosted sticker door with partitions.
Your office can also be designed with an open glass partition area without a door to provide minimal barriers between you and your employees. A smart way to get employees to get separated from the conference is to install soundproof glass partitions. The conference attendees have complete privacy of projects and assignments given or discussed in the conference room.
The problem with low ceiling glass partitions is that they are not very conducive to privacy, but it saves cost for smoke detectors mandatory for each cabin by the civil defense of UAE. You are probably aware of the problems with employees chatting on their cell phones while working on the computer. Employees can quickly come in contact with these devices while working, so they tend to leave the office and return home without finishing their work. It is good to have transparent glass partitions to keep an eye on them. On the other hand, if the sandblasted glass partition were to install, employees would not be able to see each other, and therefore they would remain longer in the office.
However, if you choose a high-quality office glass partition in Dubai, you made a good choice coming to this website. Our professional team can help you design your office space in a manner that keeps employees working longer and happier.
Our team is here to help you select a glass partition that meets all your requirements. You get our consultation service, where you can discuss your needs and wishes. The site inspection team visit your office and get you with samples of several different office partitions designs that meet your requirements. If your needs change, you can easily submit or customize your design with a minimum of disruption to your office partition.
We evaluate the types of glass used in a particular office partition and home. For example, there is various thickness of glass available. Once the glass is tempered, it is highly durable and provides you maximum safety. Toughen glass is installed in all modern offices in Dubai. Glass partitions are easy to clean, and you can keep your offices clean, whether they are large or small.
Glass partitions are mainly used in offices because they are quite easy to make rooms. However, you can also use them at home like a shower screen or a bigger window opening. There are different types of partitions available in Dubai. These include the clear, frosted, and sandblasted strips tempered glass. The frosted glass partition is generally used in bathtubs cubicles, offices, auditoriums because it has privacy and reduces glare. For home use, you can choose from many different types of glass partitions such as balustrade, skylights, and bigger openings glass for lawn/gardens or overlooking sea view areas.
If you want to install a partition, you can get a quote from the different glass partition contractors in Dubai by merely scheduling a call. You get quotes once a technician visits your home or office for measurements. You can compare the quotes offered by us to arrive at the best possible deal. You save much money when you opt for our company over hiring any other company. Once you get a quotation from us and you have to agree with payment terms and delivery time.
Many offices in Dubai that have bigger floor space for a glass panel require a partition that gives them space to conduct office work without facing any sunlight. Frameless glass partition makes no obstruction for any employee to work and do something else while the work is being conducted. Frameless glass panel is the best option for the companies that require increased light for office space. Also, frameless glass panels are available in different designs. You can also get the frosted logo of your company at the main entrance glass door.
Glass partition suppliers are responsible to supply and install glass partitions, doors, and shower screens. An office glass partition, as the name implies, is an office enclosure with glass panels that allow light to enter and exit the space. This allows the employees working in the space to work at their comfort level. If there is only one person in the office working in the room, the light would be ill-suited to provide adequate light to the work being done. This would not be conducive to the worker's productivity. On the other hand, if there are multiple people in the room working on projects, the work will be hindered because of poor light. Therefore, by using glass office partitions, the productivity level can be increased and productivity can be maintained.
There are many options available in the local market to choose from, with different designs and options. The main point of choosing a partitioning option is to find the right design for the office area. It is essential to select the correct size of glass panels in the unit to prevent damaging building existing concrete beams and electrical points. Glass is also very heavy, and therefore it is important to ensure the safety of people that the partition does not fall on any person that happens to walk between glass corridor. It is recommended to avoid the use of glass partitions in areas where there are not good ground and side support to hold these partitions. We can provide any required support in stainless steel or aluminium pipes for the installation and safety of the employee working in the office or at home.
Certain styles have been designed with the help of site inspection which work around existing pillars, electrical outlets, fire alarm, and sprinklers. Site inspection also helps technician to recommend you which door type would be suitable for the glass enclosure. If there is no space for manual hinges door to swing then the other option would be to fix sliding glass door in partition.  These sliding glass door in Dubai offices can be easily customized as per the needs. It is also advisable to install a glass sliding door in areas where workers are likely to work, as they allow maximum privacy and space for better productivity.
A glass partition for home is a great way to bring more light to your house. We as a glass partition installation company in Dubai make sure you get the best service from us for that you need to make sure you know what you need in order for us to give you the best quote. We are offering you our best service with the highest safety standard and secure stainless steel locking systems to keep intruders away from your home.
There are many different requirements for which our customer requirements, and there's not always something new but they could want to upgrade the existing design. We offer the best design for glass partition as design change over time and even as the technology changes. The best thing to do is to look at all of the options that are available with our technician at the time of the site visit. Even if you decide that you like the design of the ones that are preferred, you will want to find a design that is going to hold up and that is going to work for a long time.
The next thing that you want to look at is what the lock on the partition is going to be and how it is going to open. This is an important thing to keep in mind because if you do not have locks then it can cause a lot of problems and even some bad things can happen when you do not have the right locks on it.